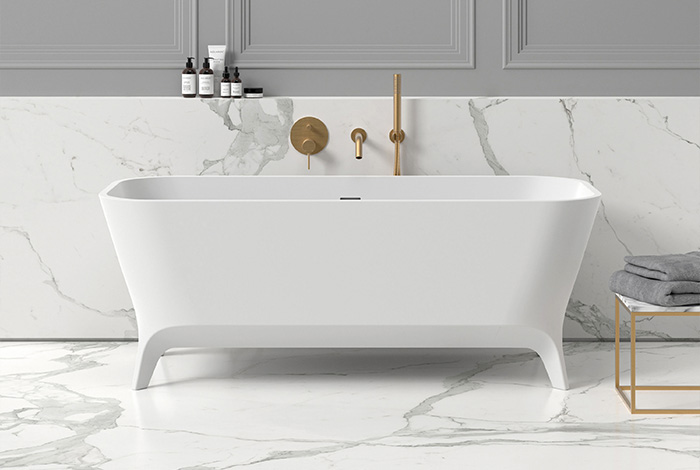 What Is Stone Resin?
Solid surface bathroom furniture is a front runner in the industry, seeing a rise in popularity over recent years. You may be looking at our collections and thinking, what is stone resin or what is a solid surface material? At Aquaroc we want to offer our customers exquisite products as well as providing you with confidence and knowledge around the high quality materials we use.
Our luxurious high performing solid surface stone material is enriched with the world's finest minerals and mixed with a superior performance resin.
Our unique material is meticulously designed and hand-finished along with being competitively priced whilst retaining that high quality, luxurious finish. Our use of natural minerals gives all of our exquisite products long lasting strength and durability. We are so confident in our expertly crafted stone resin range, that we offer a lifetime guarantee.
Our stone resin baths and basins are available in both matte and polished finishes, as well as in both white and black, allowing you to create an exquisite bathroom.
Why choose solid surface bathroom furniture?
Stone resin is seamless, durable and renewable, making it an ideal choice for those looking to invest in their dream bathroom. Whether you're looking to create a spa-like haven or a luxury family bathroom, stone resin bathroom furniture is a timeless choice.
Offering a durable, high quality finish, stone resin baths are an amazing way to create an exquisite focal point in any bathroom. In a range of shapes, sizes and finishes our selection of solid surface baths are designed for all spaces.
If your bathroom is on the larger side, these spaces lend themselves perfectly to oval and rectangular free standing baths. Our Modena Solid Surface bath is an exquisite addition, this contemporary design allows you to bring the high-end feel of a five- star hotel bath into your home.
For smaller spaces, circular and square designs provide that luxury impact. The Firenze solid surface bath oozes contemporary yet classic style. Light surfaces will help ensure that rooms with limited space are kept bright and airy. Our polished and matte white bathroom products match perfectly with our demisting mirrors, giving the illusion of more space in a room.
The stone resin range at Aquaroc boasts much more than baths, we also stock a fantastic selection of basins, vanity units and mirrors. Each of our styles compliments another from our collections ensuring your bathroom furniture is consistent within your space or throughout your home.