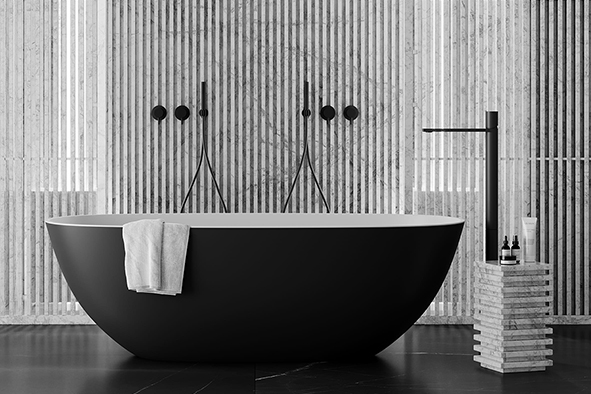 Escape to Relaxation
Spa time at home has never been easier with our Luxury Stone Baths
Self-care: (noun)the practice of taking an active role in protecting one's own well-being and happiness, in particular during periods of stress.
The notion of self-care is constantly growing and bigger than ever; in the demanding, busy world of today, we all need to ensure we take note of this phenomenon and make time for ourselves. Self-care is individual: for some it might be spending time in the outdoors, reading a book, going to the gym, starting a new hobby... essentially, self-care is making time for you to unwind, devoting as much time as possible each day to do something that is just for you. For so many people, a long bath is the only time in the day we may get to do just this. Unwind, relax and escape from the chaos of everyday life. So, why not create a spa in your own bathroom? With Aquaroc's luxury range of stone baths, stone basins and other bathroom accessories, having a spa experience in your own bathroom has never been easier.
Our beautifully handcrafted Bellagio freestanding bath will instantly transform your bathroom to a standard of a five-star luxury hotel and spa, exuding finesse. This elegant bath will elevate your bathroom and undoubtedly bring you ultimate relaxation. The impressive size and round shape make the Bellagio the perfect bath for long, hot soaks; fill her up with plenty of bubbles, light a candle and pour yourself a cold glass of your favourite bottle. What better way to unwind after a long day? We love how calm and serene the matte white looks paired with gold accessories, allowing you to create a true sanctuary in your own home. If not Bellagio, Florence is contemporary, elegant and eye catching. Made from our luxurious, high performing stone resin material, Florence is a timeless choice. She comes in four colours and so there is an option for everyone to create their own bathroom aesthetic. We love the matte black to make a statement!
A good spa always has an array of indulgent products for you to use, from luxury body foams and gels to lotions and oils. Treat yourself to some beautiful products and candles because we have the perfect vanity unit for you to store and display them: the Nero Double Vanity Unit. We love minimalism and simplicity in a bathroom, so opt for a couple of your favourites to display and the rest can be neatly tidied away in our spacious, soft closing drawers. To create a sanctuary spa like feeling to your bathroom, you need to have plenty of room for storage so there is no clutter. The vanity unit matches effortlessly with our freestanding baths in white and of course has the same high quality as all of our Aquaroc products. Made from our signature stone resin material, the vanity unit with gold accessories will really lift the sophistication of the bathroom and have you closer to total bathroom bliss in no time.
So, put your favourite bottle in the fridge to chill, run yourself a hot bath, light one of your new candles and escape in to the luxury of your Aquaroc spa bathroom. Self-care is IN, right?