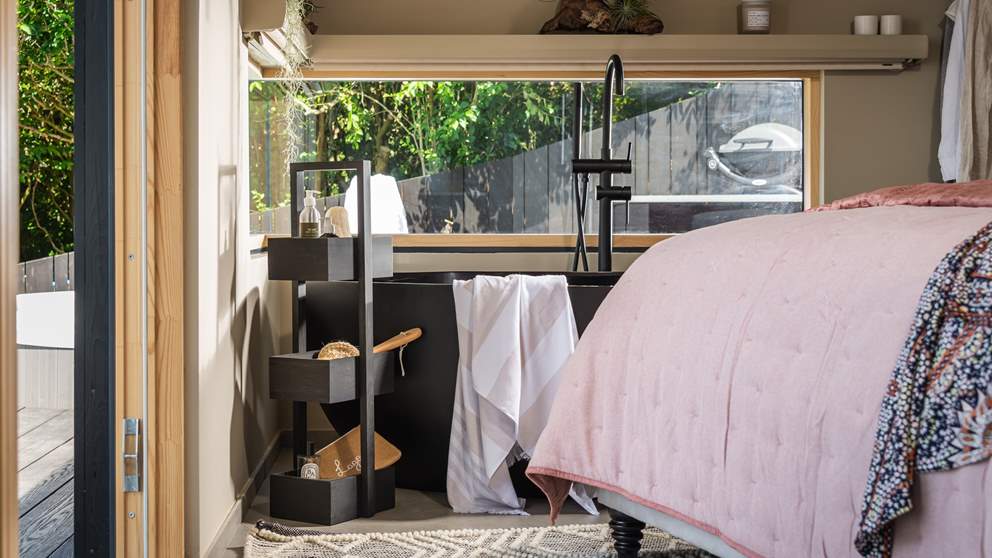 Enzo Matte Black makes Fika Beach Retreat even more enjoyable
What better place to indulge in luxury escapism than the Fika Beach Retreat? The Fika Retreat is an idyllic setting, a space to escape the chaos of modern working life and 'get away' for a while to soak in the incredible views, listen to the soft sounds of the waves hitting the shore and enjoy life's simplest pleasures in style. This stunning oasis is on the Cornish coast, boasting panoramic views of the sea and the most beautiful Scandi-style interior. We love the open-plan living, the brightness and natural light the floor to ceiling windows allow and the terrace to fully embrace the tranquil surroundings.
Life's simplest pleasures just got so much dreamier too. There is no backdrop better than Fika Retreat for our incredible Enzo bath in Matte Black. The size and grandeur of the Enzo makes it the perfect choice for this incredible place. Indulge in total luxury as you fill the bath with bubbles; relax and unwind enjoying the incredible views of the retreat. Heaven.
So, why not immerse yourself in paradise everyday by bringing a little Fika retreat home with you in our Enzo bath, available to purchase at Aquaroc.com. Close your eyes, imagine the sounds of the waves lapping the shore, breathe in the tranquillity of the retreat and unwind in luxury. Enzo is available in three enviable choices to ensure your dream bath can fit seamlessly into your bathroom. Get in touch today to bring Fika to your bathroom.