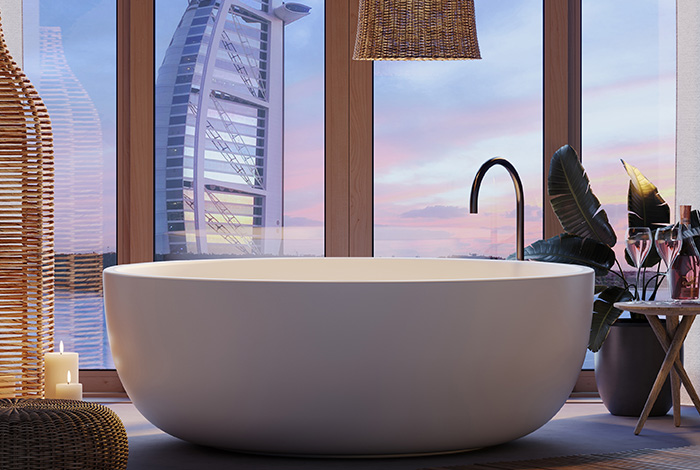 Dubai Will Never Settle For Anything Less Than First Place
So many of us are dreaming of our next holiday to warmer climates: the first time we feel the hot air stepping off the plane, hot white sand, clear blue waters and making your way through the frozen cocktail menu. There is no holiday destination that quite compares in scale and splendour to Dubai. 'Dubai will never settle for anything less than first place' and first place it has achieved: the very best in luxury hotels, fine dining, partying, all year round sunshine and the tallest building in the whole world. Dubai is home to the Burj Al Arab, one of the most iconic hotels in the world, boasting new levels of modern luxury and exceptional hospitality. So, what better place to showcase our incredible Circolo bath? The Circolo bath is presented here with truly incredible views of the world's most exclusive hotel, the Burj Al Arab. In Dubai, you can expect unparalleled luxury and sophistication; that same unparalleled luxury and sophistication is expressed in our prestigious Circolo bath.
Here at Aquaroc, we love how our bath has been styled in this incredible bathroom: the aesthetic has a relaxed beach club feel, so stylish but soft with the bleached, colourless palette. The Circolo bath sits perfectly in the centre of the bathroom, ensuring all eyes are on her. She exudes the luxurious quality we see in Dubai with the high performing, solid surface stone material she is crafted from. The revolutionary material is enriched with the world's finest minerals and mixed with a superior performance resin for unrivalled strength, high performance and durability. The quality is truly exceptional whilst maintaining the soft, warm feel that is needed for the home. The Circolo is complimented beautifully here with soft grey furnishings, creating the most peaceful ambience.
Bring a little of that Dubai luxury home with you by creating this incredible space in your bathroom. We recommend filling her up with The White Company's Seychelles bubbles, lighting a candle and matching diffuser to fill your bathroom with the unforgettable scents of the ocean breeze, the soothing combination of fresh coconut, evocative bergamot and bright orange. Close your eyes and imagine those beautiful shutters opening to reveal the incredible Burj Al Arab and bring some of the splendour of Dubai to your own private sanctuary.
Let us help create a little piece of tranquillity and a place for total relaxation with our beautiful Circolo bath.