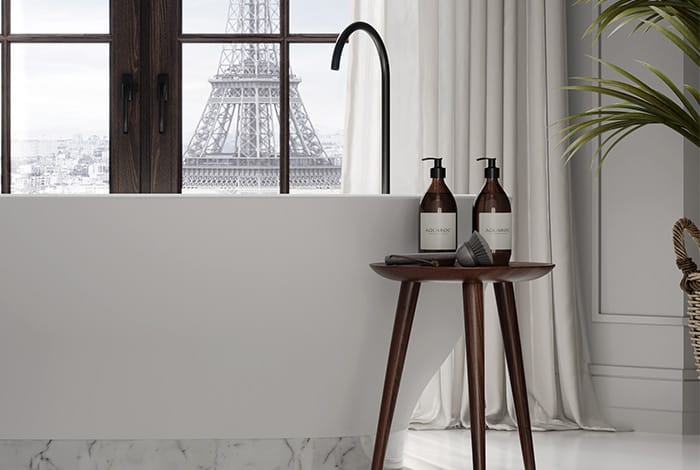 An Open Window In Paris Is All The World I Need
One of the most simple luxuries in life is filling a hot bath with bubbles, pouring yourself a glass of champagne and unwinding after a long day. One of the best luxuries in life is to do just that with this view of Paris. An open window in Paris really is all the world you need when you are indulging in total relaxation and enjoying the truly iconic view of the Eiffel Towel from a hot bath with a glass of fizz. This beautiful Parisian apartment is named Notre Rêve which translates as Our Dream, commissioned by Aquaroc Exquisite Bathrooms to showcase our exclusive Empressa freestanding bath.
The awe inspiring location, beautiful floor to ceiling windows and decadent white bathroom make the perfect backdrop for our Empressa bath. Hand crafted from our sleek solid surface stone resin and elevated by an exquisite carrara marble base, this bath truly is the 'crème de la crème' of our designs and exudes Parisien luxury. There is no better way to unwind.
So, why not bring a little 'je ne sais quoi' to your bathroom and indulge in that incomparable feeling of luxury and escape from home? The luxurious Empressa Bath is available to purchase at aquaroc.com. Fill her up with bubbles, pop a bottle of the finest champagne and close your eyes: picture the beauty of the Eiffel Tower twinkling in the night sky and create your luxury 'rêve' bathroom at home. The Empressa bath is available in two colours and the stunning marble base can be customised to your own preferred marble, ensuring your dream bath can become a reality.
Let us design and create 'ton rêve': the bathroom of your dreams.
Visit our bespoke made to order page or call 020 3488 5937.