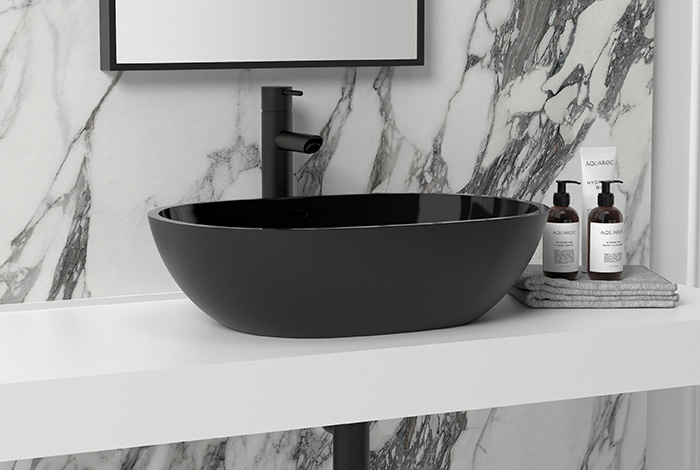 Upcoming Bathroom Trends in 2021
January is the perfect time for a fresh start and what better way than some home improvements? Lockdown has brought lots of challenges for everyone, but spending time at home has been something many of us have enjoyed. However, all of the extra time in the house has brought ideas to our attention in the way of changing and refreshing the home. Here at Aquaroc, our sleek, contemporary and stylish bathroom designs are the best addition to upgrade a tired bathroom. 2021 is the year to bathe in luxury and style; if interior design is your thing or you just fancy making some changes to stay on top of the coming years' trends, then this is the place to start! From striking matt black baths to incorporating accents of colour, we will guide you through the bathroom styling trends of 2021…
Marble
Classic, timeless and effortlessly effective, the use of marble has become a staple trend which is going nowhere. Incorporating marble throughout your interior design can be the perfect way to add elegance and expense to your bathroom. Fluid lines that are almost liquid-like will provide a modern feel whilst keeping it cosy and inviting which is ideal for somewhere you want to unwind in.
Matte Black Freestanding Baths
Black freestanding baths are bold, artistic and striking. Traditionally we are all used to seeing predominately white bathrooms, maybe with a pop of colour with accessories, but with this trend, matt black items are being used to make a statement. Using a black statement piece in your bathroom such as our matt black freestanding bath adds a luxury, modern feel to the home. The matching black basin is a must to create an unmissable focal point and theme to your bathroom. Have you seen the gorgeous bathroom set ups on Instagram with the black baths? Make it your reality….
Matte White
As we have already mentioned, white is usually the traditional and predominant colour when it comes to the styling and design of a bathroom. White pieces can really help to create a fresh and clean feel, whilst making a bathroom still feel effortlessly modern and contemporary. Why not use white accessories to achieve coordination with any white cabinets, no matter gloss or matt.. All white everything!
Be Bold
If simple, monochromatic style is not for you, then it is time to have a little fun with your bathroom… Don't be afraid to experiment with and be bold with your design choices for your bathroom. Why not go for alternative colours throughout your room. You could try coloured tiles such as pastel pink or green. Tip: keeping it pastel will ensure that any accessories or key pieces will blend seamlessly. You could even opt for a patterned tile to really add that creative touch to your space.
Accessorise, Accessorise, Accessorise!
From your toothbrush holder to mirrors or even your toilet brush, leave no area of your bathroom free from top quality design decisions. When it comes to decorating a bathroom, little quirks and accessories can sometimes be forgotten about or felt like they are unnecessary. We like to think of bathrooms as important as any other room of a home. It is a room that guests are likely to see so wow them with beautiful pieces and thoughtful staging.
Plants
Indoor plants have really begun to take off in the last few years. From cacti to succulents, it is very rare to see a home without a little green friend nowadays. It is understandable that bathrooms should be a clean and fresh space but if your bathroom is starting to feel uninviting and sterile then introducing house plants can be a simple and easy way to make a change. Fill an empty corner with a stunning palm style plant with luscious green leaves, or accessorise window sills and shelves with smaller clusters of plants. Let your creativity flow and think about how you could go for colourful vases or pots… you could even choose a hanging plant to really make a focal point.
If you have been thinking about restyling your bathroom, our expert design team here at Aquaroc are more than happy to help you. Get in touch today.